By Debra Kirkham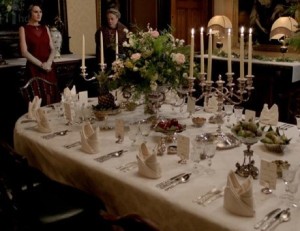 Family time and life together is very different from one home to the next; and infinitely dear to those who live by tradition in sharing the evening meal together from one generation to the next.  This particular daily experience is all so elegant, where dining and enjoying high tea is a life-style where everyone wears their finest to celebrate every evening dinner as a truly meaningful and refined event.  Everyone arrives on time to a table that is dressed in impeccable beauty with crisp linen napkins, glistening goblets, tailor-made inspired plates, under-plates, and shimmering flatware.  Each fine piece revealing a sweet story or secret from the generation it came from or the grandmother who held it closely.  These moments in life inspire togetherness, family and the celebration of love and life.
The guarantee of setting a proper table begins with accurate alignment of the centerpiece, napkins, cutlery, glasses and plates.  This is why the measurement of 1 inch from the table to the plate is necessary in positioning several service settings. This masterpiece design presents to a guest perfect regimented placement.  The following are points of style anyone can achieve in setting a formal table:
Tablecloth  :  Wool table cloth goes underneath the formal table cloth this will ensure the formal table cloth will not slip.  The formal table cloth (always white) will be in position half-way from the table to the floor.
Central Element:  Use flowers or fruit not both accompanied with candlesticks or candelabras.  In choosing flowers the beauty and variety is enjoyable to put together with refreshing green foliage preferably unscented.  The candlesticks should be high above the candlestick holder.  The central element must be low enough so guests sitting across from one another will be able to have positive eye contact and pleasant conversation.
Formal table setting:  Our example is from the table setting from Downton Abbey and would consist of the following for each person:
Charger serves as an underplate
Plate
Butter Plate
Dinner Fork
Fish Fork
Salad Fork
Knife – all blades face toward the plate
Dinner Knife
Fish Knife
Salad Knife
Soup Spoon
Teaspoon
Oyster Fork
Butter Knife
Water Glass, Champagne Glass, Wine Glass
Cup and saucer
Napkins:       There is no other than white linen napkins.  They fold nicely and should be 24 – 26 inches on a side and stand in the center or the left side of each place setting.
We hope this serves as a leading example of the finer way to set a table and enjoy quality time with loved ones.