Etiquette at the Estates
Date: Friday, January 5, 2024
Time: 11 a.m. - 1 p.m.
Location: The Edison Ford Winter Estates 2530 McGregor Blvd. Ft. Myers, FL 33901
Cost: Edison Ford members: $75; non-members: $85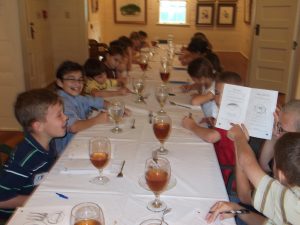 Mim's Manners at The Edison-Ford Estates
Mina Edison was a gracious hostess and concerned with the wellbeing of children and the community. Following in her tradition, this two-hour class will teach etiquette and social skills. Students will gather at the Edison Caretaker's House for a lesson in good manners. This class teaches proper introduction, handshakes and dining etiquette during a three-course meal. Each student receives a mini workbook filled with lessons they learned during the meal.
When:
Friday, January 5, 2024; 11 a.m. – 1 p.m.
Friday, March 22, 2024; 11 a.m. – 1 p.m.
Saturday, May 18, 2024; 11 a.m. – 1 p.m.
For more information and reservations, please call 239.334.7419 or visit https://www.edisonfordwinterestates.org