by Debra Kirkham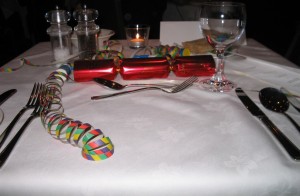 The whitest and brightest were the most fashionable, and expressively etiquette driven describes the tablecloths during the Medieval days, and still prevails to this day.
The brilliant white tablecloth as enjoyed today is used for formal dining and in some restaurants and homes used for every meal.  The tablecloth brings together the settings of the table and makes for a less noisy room in a restaurant as it works as a cushion and lowers potential noise from the table. For more noise reduction, one can use the silence cloth which is a pad that is placed under the tablecloth.  The following are some tablecloth tips:
The tablecloth is much like the base of a clock that makes the dinnerware pattern, colors and room design tick for a special dining experience
Formal dining tablecloth is brilliant white with matching bright white cloth napkins
The correct size for your tablecloth is determined by the length and width of your dining table.
The overhang is the distance between the edge of the table and the length and weight of the tablecloth as it hangs toward the floor.
The standard dining room table is 27 inches high
For a special tea event in country clubs, hotels and private clubs guests will stand while the table cloth hangs to the floor to conceal the legs of the table which often times are metal.