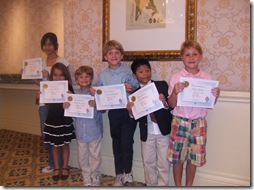 The recent graduates of Mimi's Manners at The Ritz-Carlton Grande Lakes, Orlando had a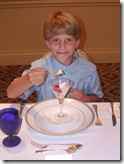 great time learning manners–and they always enjoy the cuisine created by the talented chefs at The Ritz. The Chef created a delicious tomato soup, a lemon sorbet intermezzo, an entree of glazed chicken with truffle mashed potatoes and grilled vegetables ending with a warm chocolate cake with coffee ice cream laced with chocolate syrup. YUMMY!
The children especially enjoyed their "intermezzo."  They all agreed that it tasted like an ice cream sorbet! The intermezzo is perfect for "cleansing the palate" prior to their entree.