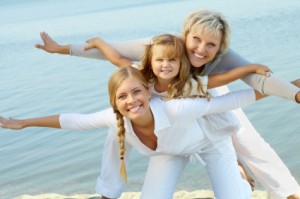 Flowers? Candy? Breakfast in bed? These are all great ideas, but have you ever thought about giving the gift of manners for kids this Mother's Day?
I know plenty of mothers (and grandmothers) who would love for their kids to learn (and continue to practice) good manners.
I teach classes where children will learn the basics of good manners, handshakes, introductions, etc and then move through a three-course meal where they learn how to properly enjoy a meal without making a mess. The two-hour class provides children the opportunity to learn new skills while practicing their manners in a fun-filled environment. I've always believed Ralph Waldo Emerson's quote: "Manners are the happy way of doing things." I make sure the kids have a good time in the class while instilling the importance of good manners in school, at home, and in their future: careers, dating/marriage.
I think all moms would agree:  Kids who have manners make all moms happier. What better gift could mom want this Mother's Day?
For more information about classes, please call 239-287-7070.