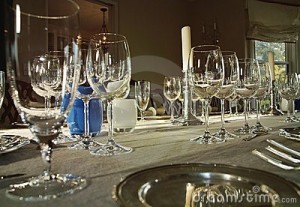 by Debra Kirkham
It's sad to see that many of the traditions that inspired strong family relationships have disappeared from a majority of families within several decades. Fortunately there are some that still remain.
Today, many families may enjoy dinner from noon to midnight.  Our meal times together are flexible and changeable as much as table-setting styles and trends in clothing. The one thing that remains the same, and is our life-line of successful communication and civility, is good manners.  Good manners complete a beautifully dressed person or one that is dressed casually.  Good manners are the centerpiece and organization of any table, be it gorgeous or a card table.  Without the exchange of good manners, the dining experience is empty and fruitless, and does not produce the purpose for which the celebration inspires!
Our children learn from the habit of using good manners and grow in our traditions of celebrating them with one another. The following are a few reminders in basic table manners during the dining experience:
Be on time
Wait to begin eating until everyone has been served
Nice and minimal conversations not any unpleasing subjects
Keep elbows off of the table and sit up straight
Say thank you and please when food is asked for and received
Cut small pieces one at a time
Chew with your mouth closed
Use your napkin
Swallow your food before sipping your drink
Say excuse me before leaving the table
Good manners define your character and you can wear it with everything in your closet, poised and confident.  Please let your children see that when everyone is trying to fit in, good manners are the only thing that stands out.